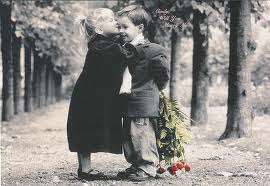 I was recently reminded of the fact that I enjoy writing.  But when I heard this, it was from someone that I thought, didn't know me well enough to be able to say something like that.  So when this person said this, I replied, "How did you know that?"  She began to then recount times where I wrote amount my experiences abroad, my experiences in college, and although I don't remember sharing these details with her, it made me smile inside, remembering the true joy that I get out of writing.  For me, I don't do it as often as I'd like, and I definitely don't do it for a living, so when I'm reminded of it, it reminds me of the artist and creative side of me that I don't feel like I always get to tap into...even at work.
I've recently been so busy with work and planning a wedding (more to come on that! ;-)), that ONE I haven't been on the Sugar community. actively, in forever, which is evidenced by the fact that my last post was a 2 1/2 years ago!  I'm keeping my fingers crossed that I'll still be welcome here by those who are new to the community (since the site has definitely developed and evolved since the last time i've been here) and of course, with the girlies who I still remember and see are still here! Hope you all are doing well :-D.
Now to begin, as I feel I should has started capturing my thoughts on being engaged...when I got engaged!  So there's going to be a bit of backward looking here, but I'm thinking it's going to be very much needed...for my sanity (since writing is very therapeutic for me).  I got engaged to my beloved Mister (as I endearingly call him) in November of last year, 2009.  At that point, we had been dating for about 3 1/2 years.  His proposal was just as I'd wanted it - simple, sincere, and private.  He surprised me with Japanese food from our neighborhood fav, set to a candlelight dinner (in our apartment), on a Monday night where we would have typically cooked dinner.  It was timed very nicely, as it was right before Thanksgiving, which we were going to be celebrating with our parents.  I wasn't too surprised, as we had been talking about it, but it was still a surprise.  The ring, which I did not preselect in anyway, was all him.  And the ring, is so me.  It's a round cut, not a huge diamond, but still beautiful and sparkly :-).  I'm not showy, and it's just a nice simple and precious ring.
I really want to share with you all what I've learned so far about what wedding planning entails, because it's truly eye opening for those who...well don't do this everyday, dar* it! :-P  It's been quite an education process, but it's also been very revealing to me, the kind of things that I'm drawn to when I've been making decisions. You can really learn so much about yourself, and discover things in every chapter of your life...and for me, it's been in this time of...engagement :-D (both literally and figuratively).  More posts to come...
-t.